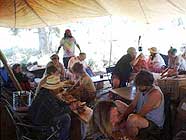 As many devotees are aware, the annual Rainbow Gathering is just around the corner. For those of you who do not know what the Rainbow Gathering is, I will attempt to describe the nature of this event and its relevance to Srila Gurudev's preaching mission here in North America.

About ten years ago I attended a regional Rainbow Gathering in Minnesota, but it wasn't until last summer that I had the opportunity to experience a national gathering. Once a year members of the Rainbow Council decide where to hold the national gathering. In North America there are thousands of acres of national forest. According to federal law the public may utilize these reserves for temporary gatherings. Once a location is chosen, word gradually spreads. As I write this article in the last days of May people from all over the country and even outside the U.S. are undoubtedly already making plans to attend the national Rainbow Gathering this summer. Some say that during the peak days, which surround the Fourth of July weekend, as many as twenty to thirty thousand people attend.

Why do people go to the Rainbow Gathering? I would say there are as many reasons why people attend a gathering as there are people who attend. Nevertheless, there are certain accepted customs practiced at the gatherings that create a very favorable environment for sharing Sri Guru and Sri Gauranga's mercy. Many attend the gathering for an opportunity to share with and serve their brothers and sisters. In this sense it is considered by many brothers and sisters to be a spiritual retreat.

Honestly, I can't think of a more favorable opportunity to share what we have been given. One senior Vaisnava told me that in his opinion, the Rainbow gathering was probably one of the best preaching opportunities in North America.

So the real question now is, how do we fully capitalize on this great opportunity to spread Srila Gurudev's mercy? It is actually quite simple when you take the time to think about it. One of Srila Gurudev's extremely dedicated servitors has spent close to a decade developing a transcendental service space at the national Rainbow Gatherings. For those of you who don't know who I am referring to, this faithful servant is Nitya Hari Prabhu. The service space he has created has been named the Simply Wonderful Kitchen. If anyone shows up to assist Nitya Hari's efforts to distribute thousands of plates of prasadam, hand out a few books, join the kirtans, serve and associate with the devotees, and just be available to make friends with sincere seekers, there is bound to be a favorable result.

What is that result? The result is that Srila Gurudev becomes very pleased with such an effort. And isn't the very perfection of life to please Srila Gurudev? Furthermore, by pleasing those who have dedicated their life to pleasing Srila Gurudev, we may even get the opportunity to be used as an instrument in the distribution of the divine lava flow descending from the higher realm. In other words, by serving those servants who have dedicated their life to serving Srila Gurudev (who is absorbed in service to His Guru Maharaja), we may get a clue as to how fortunate we are, and thus be enthused to continue on with our service. Service to Guru and Vaisnava is itself the end, and if we can somehow share this principle with others we will get the mercy of Sri Guru and Sri Gauranga and be in a more substantial position to give that mercy to others.

Many wonderful dedicated servitors of our Math attended last year's Rainbow in northern California to assist Nitya Hari Prabhu and share Srila Gurudev's gifts with others. I started to make a list beginning with Sripad Siddhanti Maharaja, Sripad Parvat Maharaja, Sarvabhavana Prabhu and Mathuranatha Prabhu, but then I started recalling the names of so many devotees. I fear that if I attempt to make a complete list I may leave someone out.

Some came in male bodies, some in female bodies, some in young bodies, some in old bodies; but one thing is for sure: everyone was fed sumptuously thanks to Nitya Hari Prabhu's uninterrupted service in the Simply Wonderful Kitchen.

If you can't make it this year, please send your love, encouragement and support to Nitya Hari Prabhu and his seva crew. Laxmi donations to help with the purchase of bhoga and books are always appreciated.

This year the Rainbow will be held in West Virginia. For more information regarding the details of this year's Rainbow you may email:




Photos from last year's Rainbow Gathering.