Srila Gurudev exuded love and affection this morning despite his showing ill health and having had poor rest. When I arrived at the Soquel Seva Ashram for 6am darshan, I was told that he had no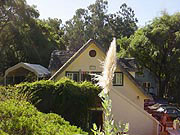 Soquel Ashram photo by Ranajit Prabhu
[see more]
sleep the previous night. His Divine Grace wasn't expected to see visitors until after 8am, if at all. I felt immediate concern for his condition and some disappointment at the possibility of not seeing him that day, but the joyous atmosphere created by all of the devotees didn't allow me to dwell on any sadness. His divine presence was everywhere, whether or not we could see him physically.
About twenty of our godbrothers and godsisters were huddled in the temple room in front of Sri Sri Guru Gauranga Gandharvika Giridhari, chanting bhajans after mangal arotik. Everyone was smiling and singing the words with renewed sincerity. There was also something special about the early morning hours that encouraged greater clarity of purpose and peace of mind.
Fortunately, the opportunity to take darshan from Srila Gurudev came much sooner than I had expected. Only forty-five minutes after I arrived, the doors to his house opened and devotees slowly started creeping in. In my experience, the most intense time is when one first sees Sri Guru after a period of separation. It had been one year since I had seen him in Russia, and four years since he visited California. After entering his meeting room, I was hit with the rays of mercy emanating from his glowing form. His eyes met mine, and I instinctively dropped my head and pressed my hands together in prayer. He generously nodded his head at me. I then sat down at my father's (Sarvabhavana Prabhu) feet. His Divine Grace didn't speak much but kept amazingly warm humor despite the lack of sleep and strain of travel. He joked about the buttons on the phone and asked about driving up to the very top of the hill on the ashram property. He gazed at the devotees as they drifted in and peacefully smiled at everyone. It was magical just to be in the same room. At this close proximity I was reminded of how intimate our connection is with Srila Gurudev. I felt my heart drawn so strongly, and I again became aware that he can see inside of me. He knows me better than I do myself, and miraculously extracts what few good qualities I might have from the muck of ego (and whatever else is going on inside my crazy mind).
But on the surface, Srila Gurudev was playful as always. He became short of breath at one point, and Ranajit Prabhu brought out his oxygen machine. He carefully placed the thin wire tubes under his nose and leaned back in his chair to relax. My dad joked that he was bringing air from Calcutta to America (an ironic statement because, as most know, the air from Calcutta is probably the worst in the world). Srila Gurudev chuckled and checked the machine, as if pretending to see if it said something about the West Bengal city. It was a lighthearted moment to relieve some of the tension that had built around his oxygen machine. Many devotees wore sad, shocked expressions at the sign of his frail health. But with his twinkling smile and charming expressions, he continually put everyone at ease.
We stayed in Srila Gurudev's presence for about one hour and were then shooed out for breakfast. Ranajit Prabhu, Bhakti Lalita Didi, Jamuna Priya Didi, Srutasrava Prabhu and Sripad Janardan Maharaj are so carefully looking out for his comfort. His darshan time will be limited so he can have proper rest, but there is no doubt that his mere presence inspires increasing devotional activity among his disciples and sincere seekers alike. This poor soul prays that she will be of some small service to the devotees around the world. Jay Srila Govinda Maharaj!